House Price Index Reports are being published for April, and this month we're taking a look at the statistics provided from Rightmove.
Headline figures for the month:
Prices have reached a record high this April, with the average selling price at £327,797

We've seen an increase over last month in prices of +2.1%, which equates to £6,733.
The chart below is linked from Rightmove's House Price Index for April and shows the statistics broken down by market sector as well as March and April stats.

Alongside these figures, Rightmove reports a 'buying frenzy' for new stock. The number of houses selling within a week has reached an all-time high, while the average number of days to sell a property has reached a historic low. The fastest-selling stock is two- and three-bedroom semi-detached properties. 30% of these properties are reported as selling within a week of being placed on the market.
The housing market was effectively closed during this period in 2020, however, making comparisons with the same period in 2019 is possible. The figures show that properties coming to market have only increased by 3% on April 2019, which is a modest increase, however, the number of sales agreed compared to the same period is up by 55%. According to Rightmove, the availability of property for sale is at its lowest level ever. And while the proportion of available property has recovered to pre-Covid levels, it is still outpaced significantly by buyer demand.
Rightmove has forecast that some of the heat may come out of the housing market when Government support including furlough and the Stamp Duty holiday comes to an end and economic conditions become more challenging.  That said, forecasters expect the housing market to remain buoyant for the rest of 2021.
Looking across the United Kingdom (except NI), every region shows a monthly increase and growth vs last year. Take a look at the map below for regional figures.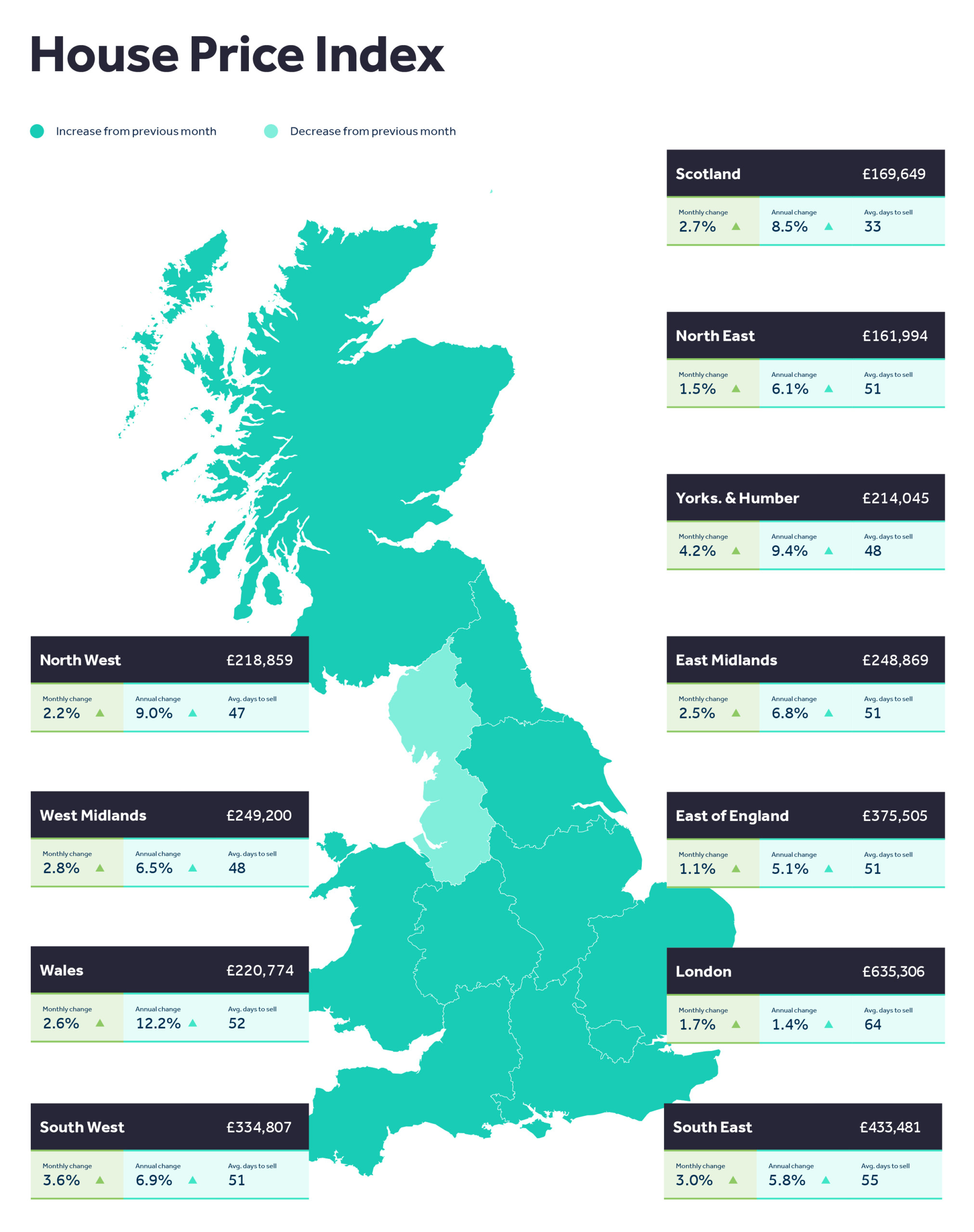 It's good news for sellers in the East of England with average property values in third place after, unsurprisingly, London, and the South East. And more good news with an average time to sell at just 51 days.
Our Analysis of the House Price Index for April
The signs in the house price index could show the beginnings of the market overheating with the lack of available properties, rising prices, and high demand. However, the economic measures introduced by the Government to protect the housing market are likely to take some of the heat out when they end later in 2021. There is also some anecdotal evidence that many potential sellers are waiting for their second Covid vaccine, and for restrictions to ease as the pandemic continues to slow across the UK. That means that there is likely to be an increase in available properties, which will naturally slow house price increases as buyers have more choice and selling prices calm somewhat. The housing market is unlikely to become a buyers' market, but it will rebalance somewhat.
Alongside this is the changing nature of the type of properties that people are looking to buy. Demand for properties in rural areas with more space and facilities for people to work from home is high at present, but whether this trend continues will depend on whether businesses wish to see their staff return to the office permanently, a blend of homeworking and office, or remain at home.
There will be an impact when the Stamp Duty holiday ends, along with furlough, and the inevitable economic challenges that the UK could face, including rising unemployment and any fallout from Brexit that is yet to be felt. Of course, the UK economy is highly resilient, so there are forecasts that expect only a short-term slowdown.
Whatever challenges the UK faces in the coming months, we expect the housing market to remain resilient in the coming months, with steady growth into 2022.